Ewa Partum, new horizon is a wave, 1972/2020, Neon installation – Photo: Marcel Stammen
WHAT'S ON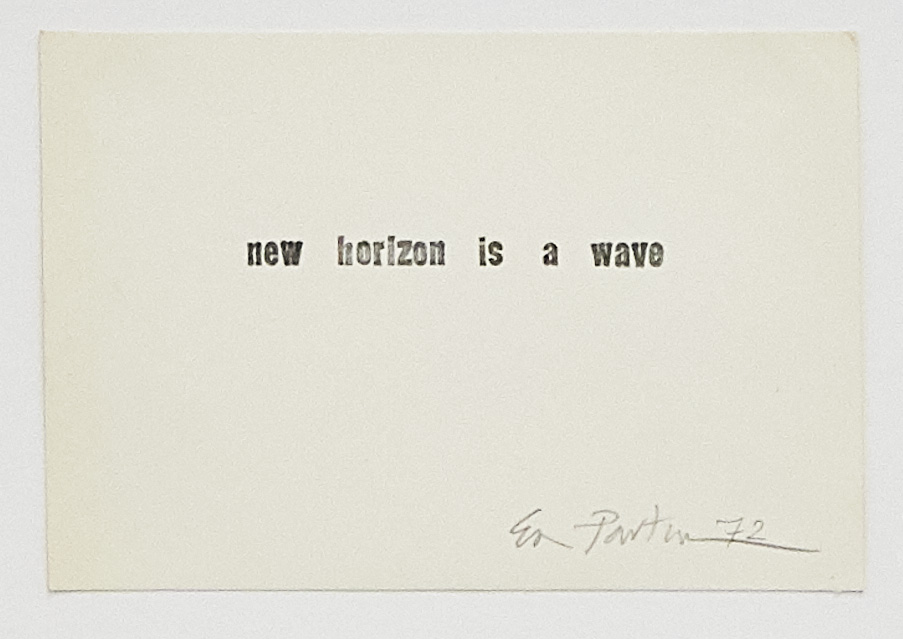 Ewa Partum, new horizon is a wave, 1972, Stamp print on paper, framed 34 x 34 cm – Photo: Marcel Stammen
Position #01
Ewa Partum
January until February 2022
Window display daily 10.00 a.m. – 22.00 p.m.
Stadtgalerie Künstlerhaus Lauenburg
Neon work
For the polish conceptual artist Ewa Partum, this sentence was brought to the point already in the 1970s – that the unknown new also, always means a shock. Back then it was mainly coined for the pioneering force that emanated from conceptual art. Against the backdrop of the current situation, new horizon is a wave can be interpreted differently once again: In the crisis, a new horizon, a possible other life reveals itself – and this prospect can be powerful, mighty (and sometimes frightening), like a wave. (Text: Gallery Mathias Güntner)
ARTIST STATEMENT AND BIOGRAPHY
Ewa Partum was born 1945 in Grodzisk Mazowiecki, Poland.
She lives and works in Berlin and Poland.
Ewa Partum (*1945) belongs to the first generation of Polish conceptual artists and is considered one of the pioneers of conceptual and feminist art in Europe. In the mid-1960s, she positioned herself with a "critical attitude towards reality, the system and control" and initially appeared with pioneering actions and installations in public space, visual poetry, films as well as photographs and performances.
In Self-Identification (1980) this becomes tapered: The nude body of the artist is exposed in different public situations and shows the vulnerability not only of the body itself but the vulnerability of the process of 'self-identification', as the title states.
Her early work reflects the reality of a country torn between socialist, communist and liberal dynamics.
Partum is one of the most important representatives of conceptual and feminist art in Poland, as evidenced by presentations of her works at the Palais de Tokyo, Centre Pompidou and other venues, as well as her participation in international exhibitions such as the 14th Biennale de Lyon, La Triennale 2012 Paris, 18th Biennale of Sydney and Manifesta 7, among others.
Works in public collections (selection)
MoMA, Museum of Modern Art, New York, USA
Tate Modern, London, UK
Museo Nacional Centro de Arte Reina Sofia, Madrid, Spain
Nationalgalerie Berlin, Germany
Sammlung Verbund, Vienna, Austria
Generali Foundation, Vienna, Austria
49 NORD 6 EST – Frac Lorraine, Metz, France
Navigator Foundation, Boston, Mass. Boston, USA
The Art Collection of Erste Bank Group and Erste Foundation, Vienna, Austria
Museo Vostell Malpartida, Malpartida de Caceres, Spain
(Text: Gallery Mathias Güntner, Hamburg/Berlin)
---
YOUR VISIT
New opening hours from the end of February 2022.

The modernisation work for the construction of the Stadtgalerie Künstlerhaus Lauenburg is still in progress.
---
35 Years
Künstlerhaus Lauenburg
Jubilee Edition
On the occasion of the 35th anniversary, a special postcard edition has been created. 24 former fellows in the fields of fine arts, literature and composition and other artists associated with the house have participated.
This edition is available in 2 different versions with 12 artists' cards each at a price of 9 € per edition at the Künstlerhaus. Both editions together are available at the special price of 15 €.
Orders for postal delivery via info@kuenstlerhaus-lauenburg.de.
---
REGISTRATION
---
We kindly ask for registration for all events at info@kuenstlerhaus-lauenburg.de.
Reduction applies to members, pupils, students. Program subject to change.
The current corona regulations of the state of Schleswig-Holstein apply.
A hygiene concept for the events is available.
Thank you for your understanding.
---
info@kuenstlerhaus-lauenburg.de
---
JOIN US
---
Membership offers personal invitations to all events in Künstlerhaus and Stadtgalerie Künstlerhaus Lauenburg, direct contact to international artists, special prices and much more.
NEWSLETTER
Subscribe to our newsletter to receive regular information and news from Künstlerhaus and Stadtgalerie Künstlerhaus Lauenburg. Please complete the form below.
VISITOR INFO
---
Office hours
Monday 11.00–17.00

Phone +49 (0)4153 592649
info@kuenstlerhaus-lauenburg.de
---